"We're thinking about marketing for our startup but we're not sure if content marketing is the right way to go. Do you think there's enough ROI there to make it worthwhile?"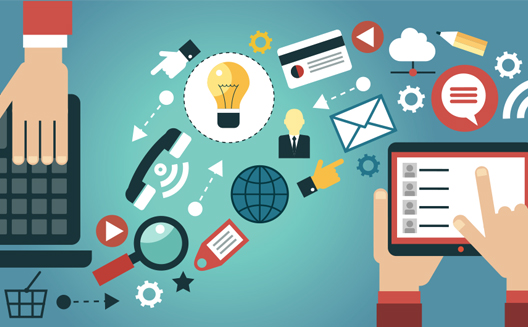 I get asked questions like this all the time by startups who want to bring in more customers, but are apprehensive about the cost, involvement and the ROI.
They're usually surprised by my response.
They don't expect me to say that not only is content marketing one of the most affordable methods of traffic and lead generation – it's also got long-term value, residual benefits that play into SEO, social media, customer satisfaction, conversion rate optimization and so much more.
If you're one of those startups sitting on the fence, I want to give you five really good reasons why investing in content marketing is going to pay you huge dividends.
1. Content builds credibility
Your customers need to know three critical things about your business:
You're competent
You're credible
You're likeable
Content marketing gives you the chance to address all three.
When you share content that outlines your expertise or digs into a topic they want to learn about, you're playing the role of the authority, giving them faith in your ability to do the job you're promising to do.
This gives your customers a clear understanding of your competence; they can see for themselves the way that you think through problems and address issues, and they also learn to see you as a trustworthy information source – that's the credibility part.
The voice and tone you use to write the content also gives your customers a sense of your brand's personality and values.
They learn what you're all about and how you communicate. If you can entertain them while they're learning from you, you'll grow to be seen as a likeable brand – and that positive emotional connection makes it more likely they'll buy from you and stay a loyal customer.
2. Content fuels social engagement and exposure
Social media without content marketing is lifeless.
If you want to have something to talk about with your customers (other than answering their questions and handling their complaints), you need to be either creating or curating content that's interesting to them.
Content marketing gives your brand the ability to steer the conversation in whatever direction you choose. You can showcase your competence in a specific area, give customers a conversation point, or educate your following on an issue you know they care about.
Your content can be repurposed on social media in a multitude of ways, too – whether it's turning statistics into clever snapshots and infographics or adding quotes to images for a visual impact.
Content marketing gives your customers a point of entry into your website and a sense of familiarity with your brand that makes it more likely they'll buy from you over time.
3. Content marketing is a powerful SEO tool
If you want to rank well in search, you need two important things:
High-quality links from trusted websites
Original content that pertains to the keywords you want to target
Content marketing gives you both.
You can create content that surrounds certain keywords or phrases you want to rank for – phrases that it might be more difficult to work into your primary website due to constraints or on-page conversion funnels.
This gives Google lots of unique content to chew through and improves the topical relevance of your entire domain, improving the likelihood that you'll rank well in search.
Then, when that content gets shared and talked about, you'll earn quality links naturally – the way Google loves.
You can be deliberate about your content marketing and target specific hubs, interest groups or audiences who have the ability to give you a link back.
The result is a much more powerful website that's able to outrank your competition and earn links that they can't copy.
4. Content creates and captures new customers
Even if you've got the greatest landing pages and website copy on the planet, you're still missing out on customers and conversions if you're not using content to generate leads.
For example, a guide or ebook on a subject your audience is interested in can be used to generate leads by giving it to them in exchange for their email address – empowering you to remarket to them and send offers on an ongoing basis.
Blog posts and articles, as I mentioned, improve your credibility and competence – but can also be used to hit on customer pain points and help them realize their need for a product or service like yours.
And you can use content to target keywords that show clear buyer's intent, getting more qualified leads on your site in the moments they're considering options and solutions.
The more relevant content you create, the more lines you'll have out in the water to potentially hook an interested lead.
Content marketing is affordable (really!)
None of the benefits above would be worth it if content marketing cost a fortune to implement – but the honest truth is that it doesn't need to.
Yes, you will need to pay for someone to research, plan and edit the content if you are unable to do this yourself. And yes, you will need to invest in a promotion strategy for the content. But there are ways to make both of those options incredibly efficient:
Set a content schedule you can manage:

Don't listen to anyone who says you have to publish "X" amount of content for it to be effective. Just commit to producing what makes sense for your budget and resources; anything is better than nothing
Repurpose content to get more bang for your buck





A huge part of the cost of content is the planning and ideation phases, where you generate and research ideas. Instead of coming up with new ideas every time, it makes much more sense to choose one big idea, research it in depth, then produce multiple pieces of content based around that same theme.





For example, you could create an ebook, then turn that ebook into smaller posts and guest posts for sharing on your own site (and pushing people back to download the ebook, which gets you their email). Any stats in the ebook could be turned into tweetables, images and infographics.





You can stretch one piece of content a very long way – and once you have it, you can market it over and over again.

Produce some content yourself





You don't have to love to write or be an expert designer to create content. You can lend your abilities to video, podcasts, webinars, Slideshares and much more. There are plenty of mediums you can create on, and the ability to create on your own can bring down the overall cost – so long as you've got the time to manage. If you don't…

Source work from the same people repeatedly





Instead of working with a huge group of different writers or designers, finding just one or two who you trust to deliver can be more cost effective as they'll save you time on the research and editing end. They'll get to know your business, and by doing so, get used to producing content in your style and to your preferences.
So, yes – you should invest in content marketing. Put aside those fears and trepidations – there's a lot to love about content marketing, and a ton that it can do for you. If you want to build your brand, engage your customers, improve your SEO, capture more leads and keep customers coming back, content really isn't optional – and it's time you started reaping the benefits.
Credit:-
http://www.wamda.com/2015/07/should-startup-invest-content-marketing